FAIR FURLONG SCHOOL ELECTION
Below are details of each of this year's candidates and their exciting manifestos.
Please click here for our Election Day film made by Made in Bristol
WEEK ONE OF THE CAMPAIGN ....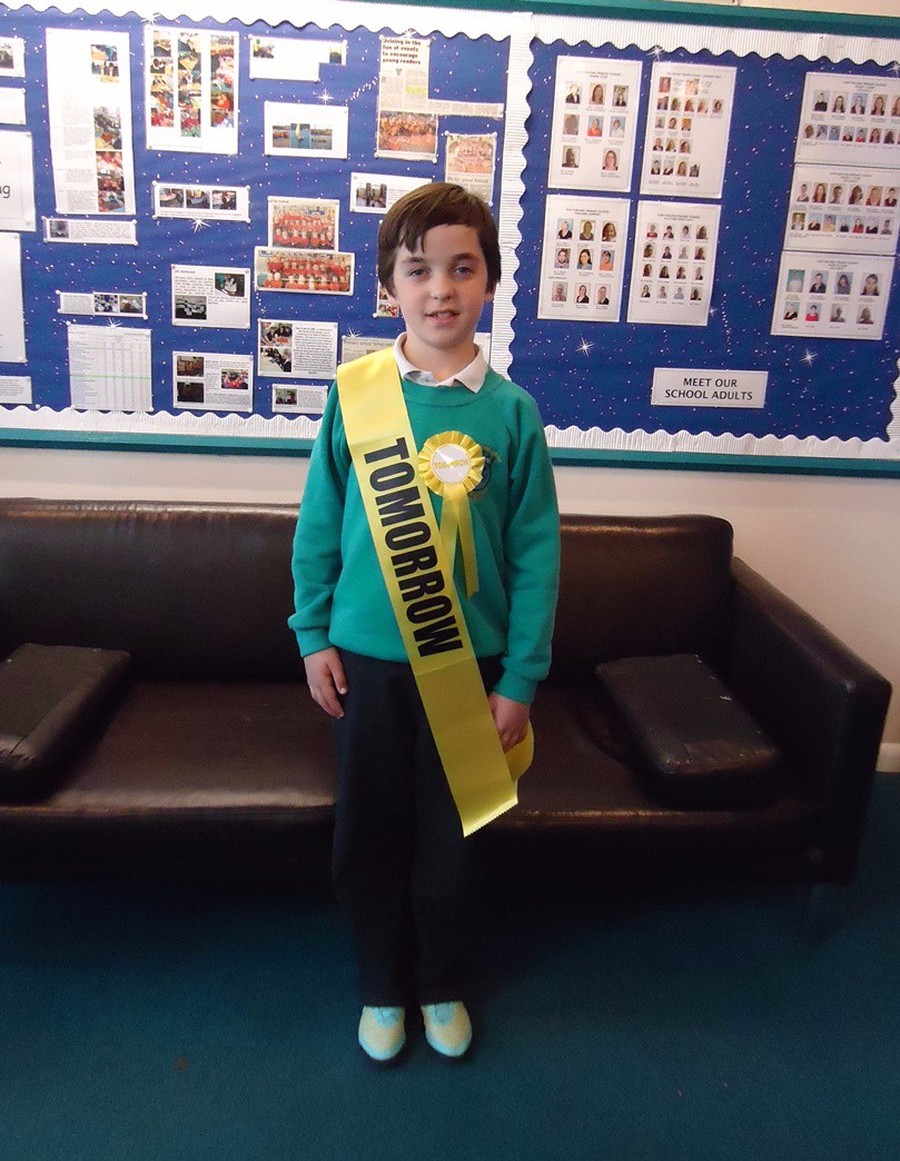 HUGO MAINDRON (TOMORROW PARTY) : I will keep my promises.I am reliable and honest. I will make changes for the better.I will listen to all the children's ideas and I will make them happen. I will encourage the children to be positive and 'be the best they can be'.I will do anything in my power to make the school a better place. Last but not least, if I had to spend the £500 budget on this school I would invest in more art equipment because I think children need art to express their inner feelings.
PERSONAL PROFILE:
Hugo was born in Bristol in 2005. He is 9 years old. He lives in Withywood. Both Hugo's parents are French and Hugo speaks French fluently. Hugo has a sister called Chloe who is 14. At home Hugo enjoys drawing and reading. He is particularly enjoying the Diary of a Wimpy Kid books by Jeff Kinney at the moment. At the weekend Hugo plays football for Highridge football team. Hugo has a pug dog called Oscar who is 2 years old. Hugo's favourite subject at school is maths. He is learning about rounding at the moment which he says he's finding really interesting.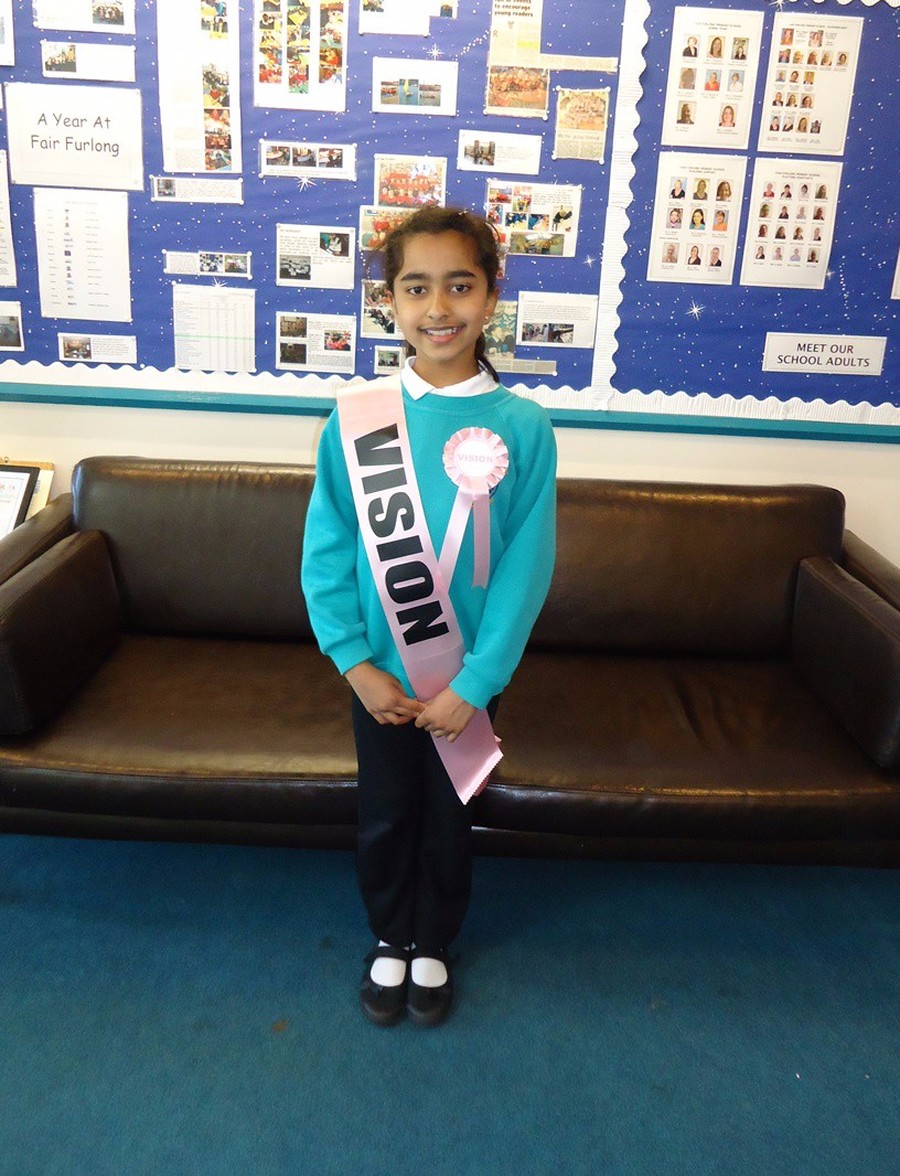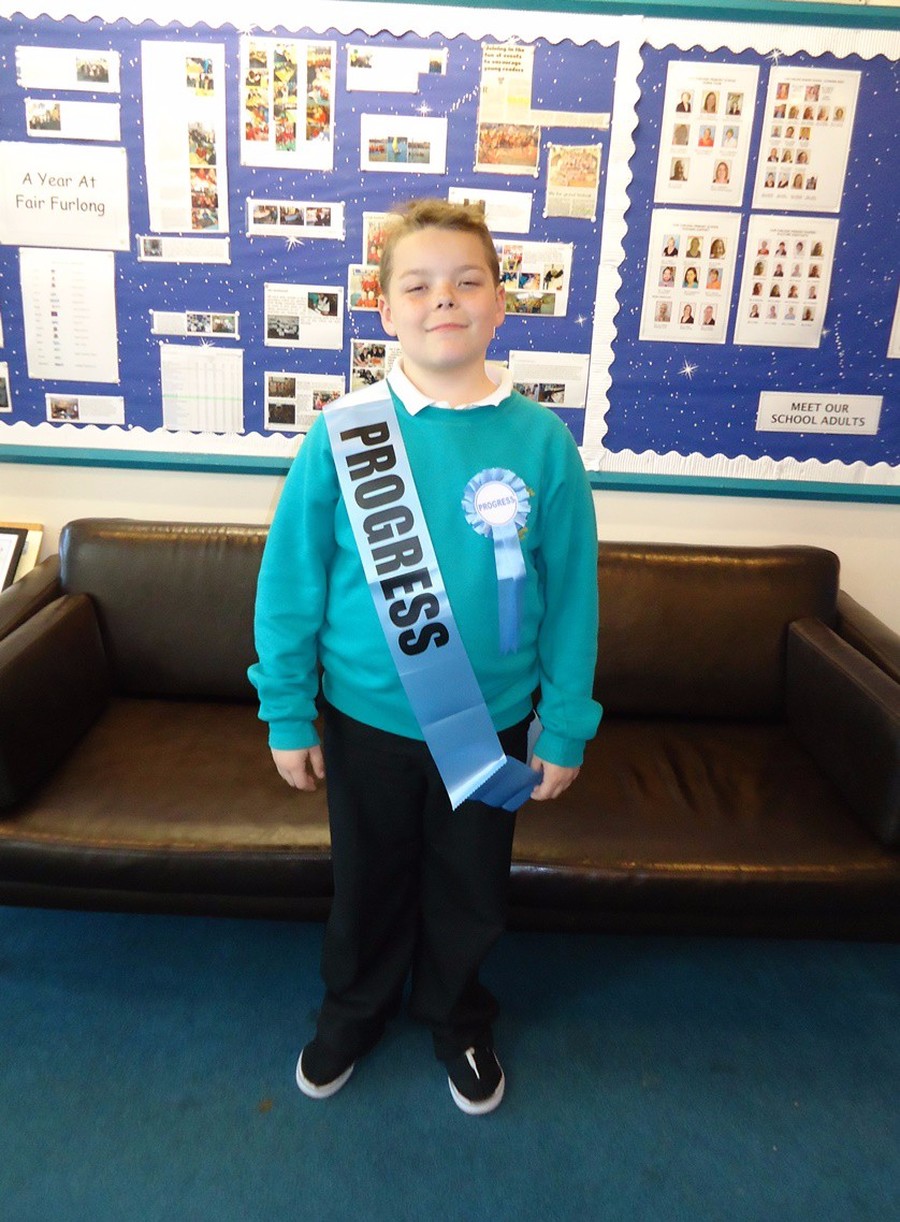 HARVEY BLAMMON (PROGRESS PARTY) : I think I would be a good candidate to run for Head Pupil because I am honest and I always tell the truth. I am kind to everyone. If I won the election I would spend the £500 budget on organising a school Olympic Games. I would buy medals and trophies and make sure it was really fun day that the children would remember for the rest of their lives.
PERSONAL PROFILE
Harvey was born in Bristol in 2004. He is 10 years old. He lives in Hartcliffe with his mum and dad and two brothers Mason who's 15 and Aston who's 3. At home Harvey enjoys climbing and roller skating. He has a dog called Scoobie and a goldfish who he has not named yet! Harvey's favourite subject at school is art. He says "In my house I am the one who has the drawing talent."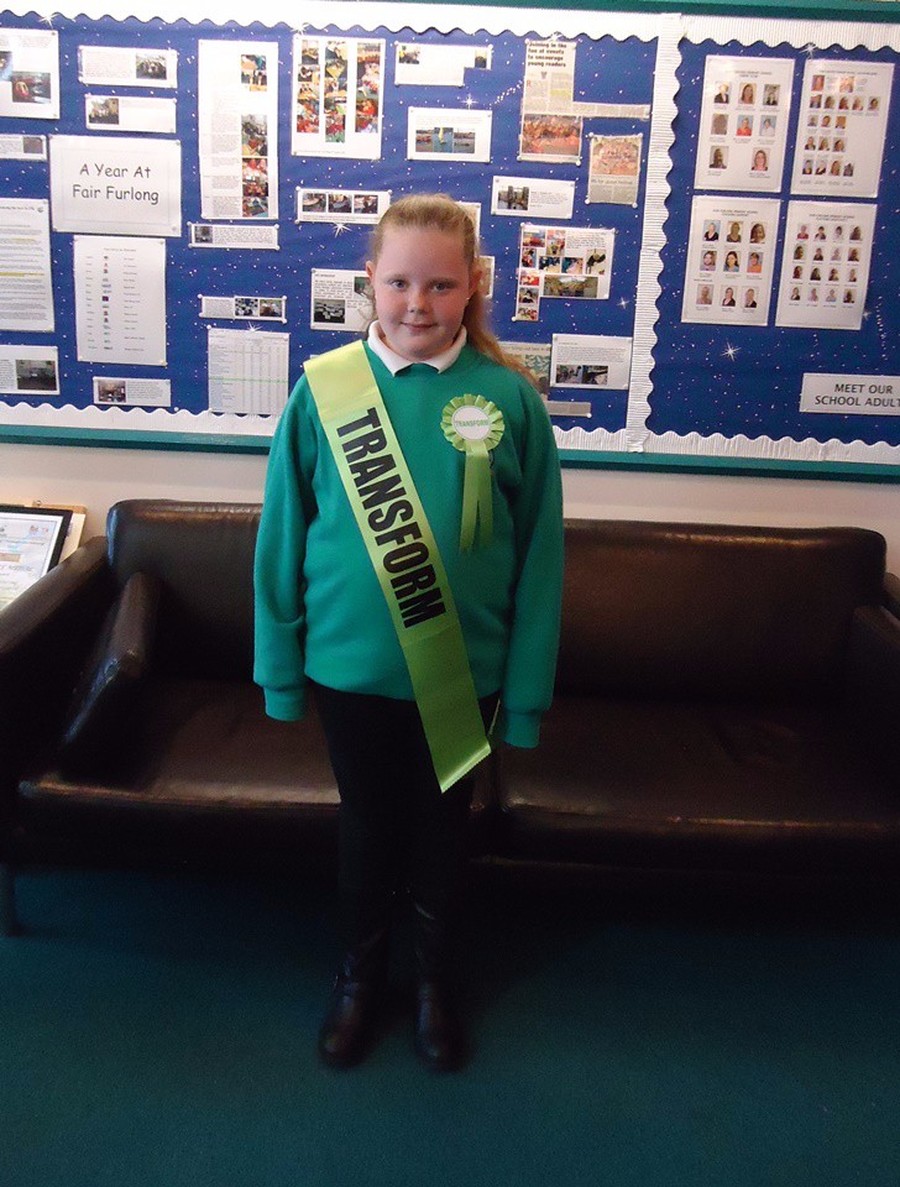 CRYSTAL SUNIL (VISION PARTY) : I want to win the election because I always respect everyone's ideas and I always help children if they are stuck. Also, I am confident and I never give up. If I win the election I will use the money to plan a Fun Day for all the children at the school. Everyone at this school works so hard. I think everyone should have a break and have some time to play at a school fun fair. Also if children come to school after having a tough time at home the fun fair will cheer them up!
PERSONAL PROFILE:
Crystal was born in 2005. She is 9 years old. She lives in Hartcliffe with her mum and dad and sister Snehal who is 13. At home Crystal enjoys playing on her ipad and on the computer. She also enjoys playing the guitar and piano. Every Friday Crystal goes to gymnastics lessons and has lots of badges for her achievements. Crystal's favourite subject at school is art. She also loves maths and has been enjoying learning about fractions recently.
KIERA COLE (TRANSFORM PARTY) : I will listen to what children want for the school and what they think is best. I am confident to make decisions on behalf of my fellow pupils. If a pupil or class have ideas I can put them into action. By electing me Head Pupil I will influence the school by giving children the best education they can have. I will give children more opportunities to play with equipment. Having more time to play will give children more opportunities to make friends instead of being lonely or bored. I will make appointments with Miss Drew, Mrs Buggy and Miss Edwards so we can arrange to speak about what we would like. I would spend £500 on improving the playground and P.E. resources.
PERSONAL PROFILE:
Keira was born in Bristol in 2005. She is 9 years old. She lives in Highridge with her mum and dad. Keira enjoys making cakes with her mum who runs her own cake making business. At home Keira has 3 neon fish, 2 cats calles Sky and Kibble, a parrot called Charlie and a snail called Sheldon. Keira is really enjoying sailing club at school. Keira's favourite subject is maths. She has enjoyed learning about decimals and fractions recently.
THE CAMPAIGN TRAIL : WEEK TWO
This week our four party leaders' election campaigns have begun in earnest. Hugo, Harvey, Crystal and Keira have written their personal profiles as above.
After school on Tuesday afternoon they finalised their campaign poster designs on ipads which are now displayed in the school hall.
Last but not least, they have bravely presented their party manifestos to the whole school in assembly. Teachers have commented on how impressed they were with the candidates excellent public speaking skills and maturity.
The school has ordered rosettes for all our party members and sashes in their party colours for our party leaders which we have been assured are on their way (we are being asked daily when they are likely to arrive by some very excited children).
The campaign trail rolls on! Keep watching out for more exciting developments next week.
THE CAMPAIGN TRAIL : WEEK THREE
This week our four party leaders met with all their party members to discuss their campaign to be elected head pupil. Ideas discussed by the children at the meeting were approaching the electorate to discuss what their party has to offer, making flyers, posters and even wearing bill boards in the playground advertising their party. With just a few days left until voting day now the pressure is really on. Interesting discussions between party members also took place at the meeting about how far a £500 budget can realistically go. Some party members are coming to the conclusion that they will have to arrange fund raising events in term 6 to increase their budgets. Without a doubt the most exciting event of all this week has been the arrival of the rosettes for all our party members and sashes for our party leaders.
On Monday we were fortunate to have a visit from Tony Dyer, Green Party, who spoke to us about his experiences and why he thinks it is a good idea to represent your community and be involved in the election. He talked about our school values and did research each of our candidates and their parties and gave them some useful advice including that although there can only be one winner the other parties will need to work together with the winning party to make the very best outcomes for our school. Mr Dyer was a very interesting speaker and a member of our local community and the children loved listening to him. We are very grateful to him for his time and have assured him that we will let him know the result of our Fair Furlong Election!
WEEK FOUR : POLLING DAY
The Tomorrow party members were jubilant as Hugo Maindron was presented with a giant rosette for all his efforts. In his acceptance speech Hugo said "I am privileged". A reception was held for all the children in the school council who had taken part. The children enjoyed flutes of lemonade and a delicious slice of cake made by Kiera-Lee Cole's mum.
Everyone at the school is incredibly proud of all the candidates who conducted themselves in an extremely mature and confident manner throughout the election process. We were also extremely pleased with the enthusiasm of all the children in school in their participation and the manner in which they supported their fellow pupils in preparation for and during the voting and result process. The children at Fair Furlong certainly showed our school values of Respect; Learning Together; Enthusiasm; Trust and Challenge.
TV cameras from Made in Bristol were with us during the election process and a report was shown on the Evening News. We would like to say a special thank you to Mrs Buggy for working so hard to co-ordinate the election – it certainly brought a new dimension to our school and one we will certainly hope becomes a quadrennial event. Also a special thank you to all the parents of the candidates, the parents who came in and counted the vote and all the school staff who had supported the event.
Please see our photos from the Big Day!